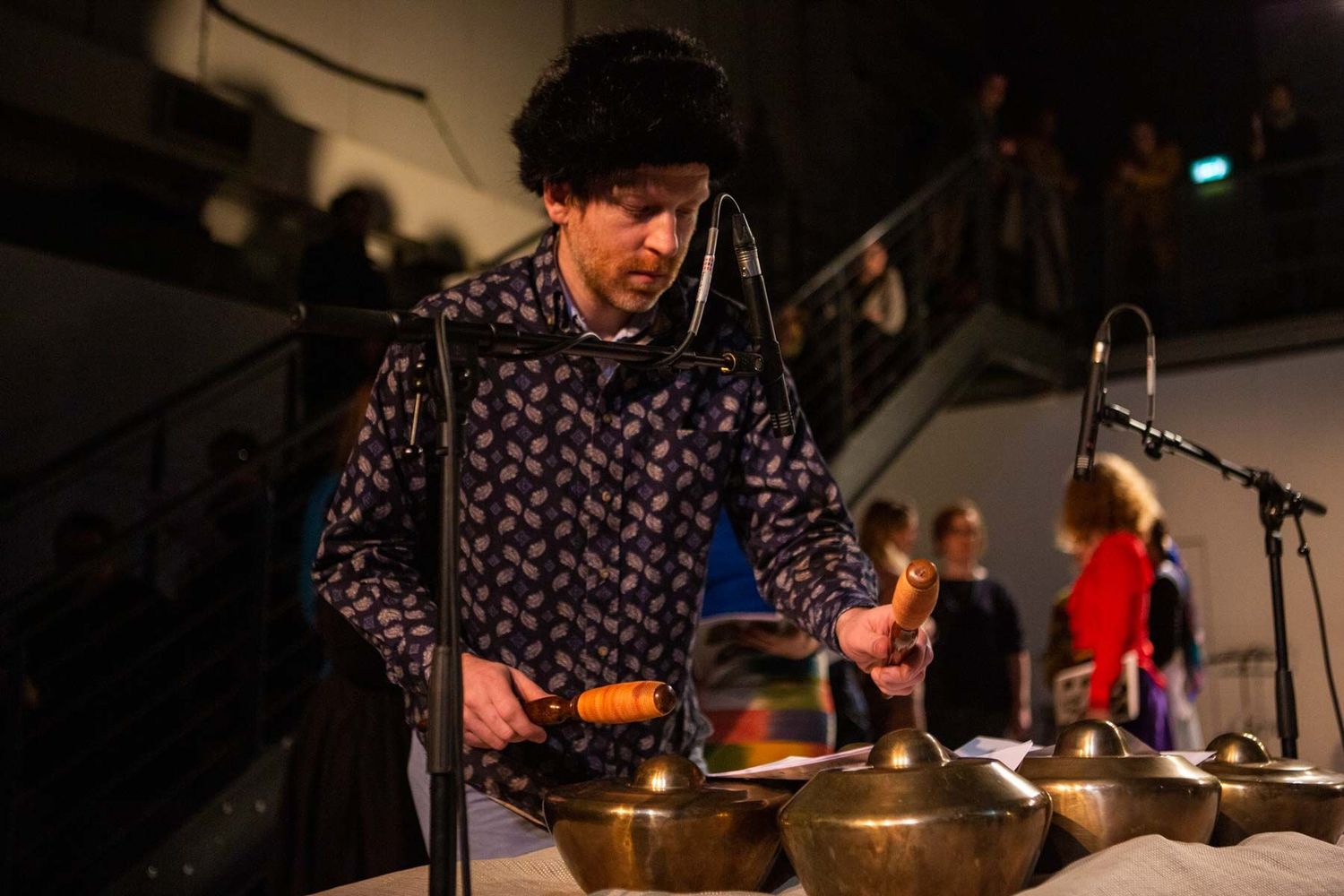 Steve Potter performing with Musarc, LCMF 2018. Photo: Yiannis Katsaris
Steve Potter is an American musician, composer and researcher based in London. His artistic work integrates satirical reflections on racial segregation and class ideology, with noise, speech, and movement, into complex yet direct and folksy performances. In 2015-16 he was a Fellow at the Society for the Humanities at Cornell University and taught at Auburn Correctional Facility through the Cornell Prison Education Program. His research focuses on how political metaphors and techniques of power play out in musical practices, particularly those practices interested in distancing themselves from traditional hierarchies. His article, 'Cage and Foucault: Musical Timekeeping and the Security State' is forthcoming in Theatre, Performance, Foucault! (2019, Manchester University Press).
Collaboration through friendship is central to Steve's practice, and his collaborators have included anthropology and literature scholars, instrumental improvisers, animators, post-dramatic actors, vocalists and dancers. His performing life encompasses prepared piano, accordion, voice, amplified objects, samplers, drawing, improvisation with film, and conducting. Steve has performed with Musarc, the London Improvisers Orchestra, Southbank Gamelan Ensemble, Cara Curran, Justin Christensen, Ollie Evans, Federico Reuben, Adam de la Cour, Phil Venables, and Velodrome (Katherine Christie Evans). He currently teaches composition and music analysis at the Guildhall School of Music and Drama.
His recent works include COUNCIL SYSTEM (for Musarc, 2019); HAMHANDED (2019); SHINE, So Long, Take My Father's Fortune, Help, Take My Brother. Music subtracted from Arnold Schoenberg's Drei Volksliedsätze (1948), rearranged and recomposed for choir with bonang pots, ukulele, cowbells and signs with words (for Musarc, London Contemporary Music Festival 2018); Well I want it in writing, the smallest event and the secretest agency (2016, Cornell University); Music for the Sleepy (2015, Infancy, History and the Avant-Garde festival, London); Krono-Metre: Catalogue Out of Time (2010, with Kélina Gotman, Making Sense Colloquium, IRI-Centre Pompidou/Institut Télécom/NYU in Paris); Old People in the Wrong House Dancing With Robots (2011, Nouvel Ensemble Moderne, Domaine Forget festival, Quebec); and The Officers (2008, New York City Opera VOX showcase).
Steve was influenced by studies with Janet Gyatso (Buddhist philosophy) at Amherst College; David Osmond-Smith (critical theory) & Martin Butler (composition) at Sussex University; and Gilius van Bergeijk, Clarence Barlow & Louis Andriessen (composition) at Koninklijk Conservatorium Den Haag. He grew up in Chico, California.