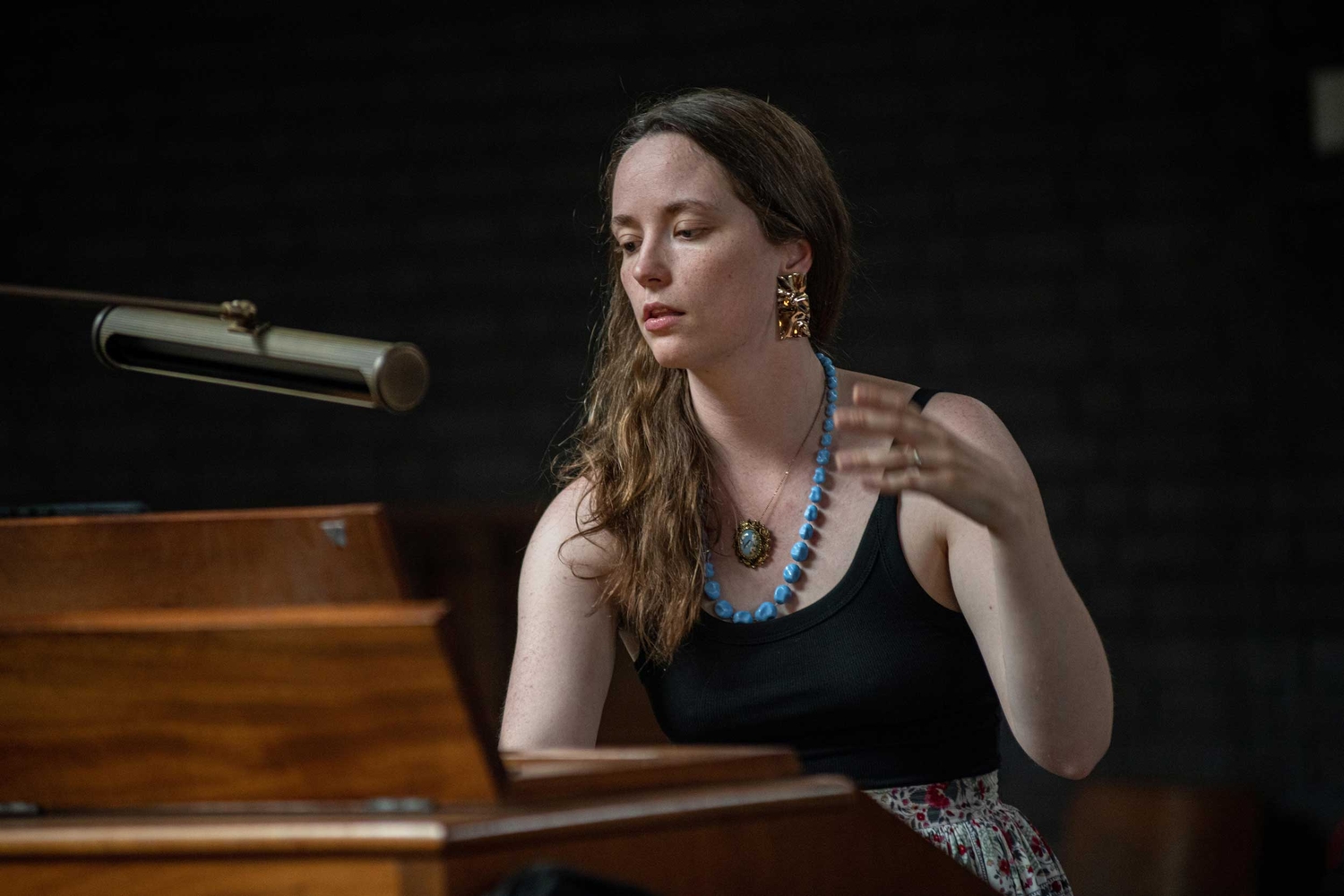 Patricia Auchterlone rehearsing with Music at Pfeiffertag, June 2023. Photo: Dawid Laskowski
Patricia Auchterlonie is a passionate performer of new, experimental and unheard music, equally at home on the opera stage, in the concert hall, and beyond. Her performing has been described as 'especially impressive' (The Guardian) and 'seemingly effortlessly and with amazing directness' (TEMPO).  She is interested in playing with the voice, experimenting with performance practice and cross-arts collaboration as well as more traditional forms of music-making. She is Canadian-born but living and working in the United Kingdom.
Patricia's 2021/2022 season will include premieres of the role of Superfan in Oliver Leith's Last Days for ROH Linbury and of new works for voice and piano by Evan Johnson at Huddersfield Contemporary Music Festival with pianist Ben Smith. There's also a tour in the works for her sax-voice duo, Honkus with David Zucchi. Recent work includes Knussen's Where the Wild Things Are with Shadwell Opera and the Bamberg Symphony Orchestra, Stockhausen's Sternklang with Birmingham Contemporary Music Group, and covering the title role in Violet by Tom Coult for Music Theatre Wales & Britten Pears Arts. She also recently created the role of Kes'Cha'Au in RUNE by Alastair White for Tête a Tête, due out on Métier Records in 2022 and Duncan House by Rasmus Zwicki with Plus Minus Ensemble.
Concert work has recently included a recording of Param Vir's Wheeling Past the Stars for voice & cello, released by NMC in 2019. She has also recently performed with Birmingham Contemporary Music Group, London Contemporary Music Festival, An Assembly, Borough New Music, Orpheus Sinfonia, Illuminate Women's Music, and in the LSO's 2018 This Is Rattle Festival. Patricia has also been broadcast on BBC Radio Three and Resonance FM's Sound Out. She has performed in venues all across the UK including Wigmore Hall and The Barbican Centre while regularly working in non-traditional performing spaces including Colourspace, the Courtauld Gallery, The Drawing Room and APT Deptford.
Patricia was the 2017/18 Carne Junior Fellow at Trinity Laban. She holds a master's degree with distinction from the Guildhall School of Music and Drama and a Bachelor of Music from the University of Toronto with honours.  Patricia is also an avid reader, an amateur seamstress, indomitable knitter, and a shameless lover of the banjo (which she plays with enthusiasm rather than skill).
Biography last updated: 2023