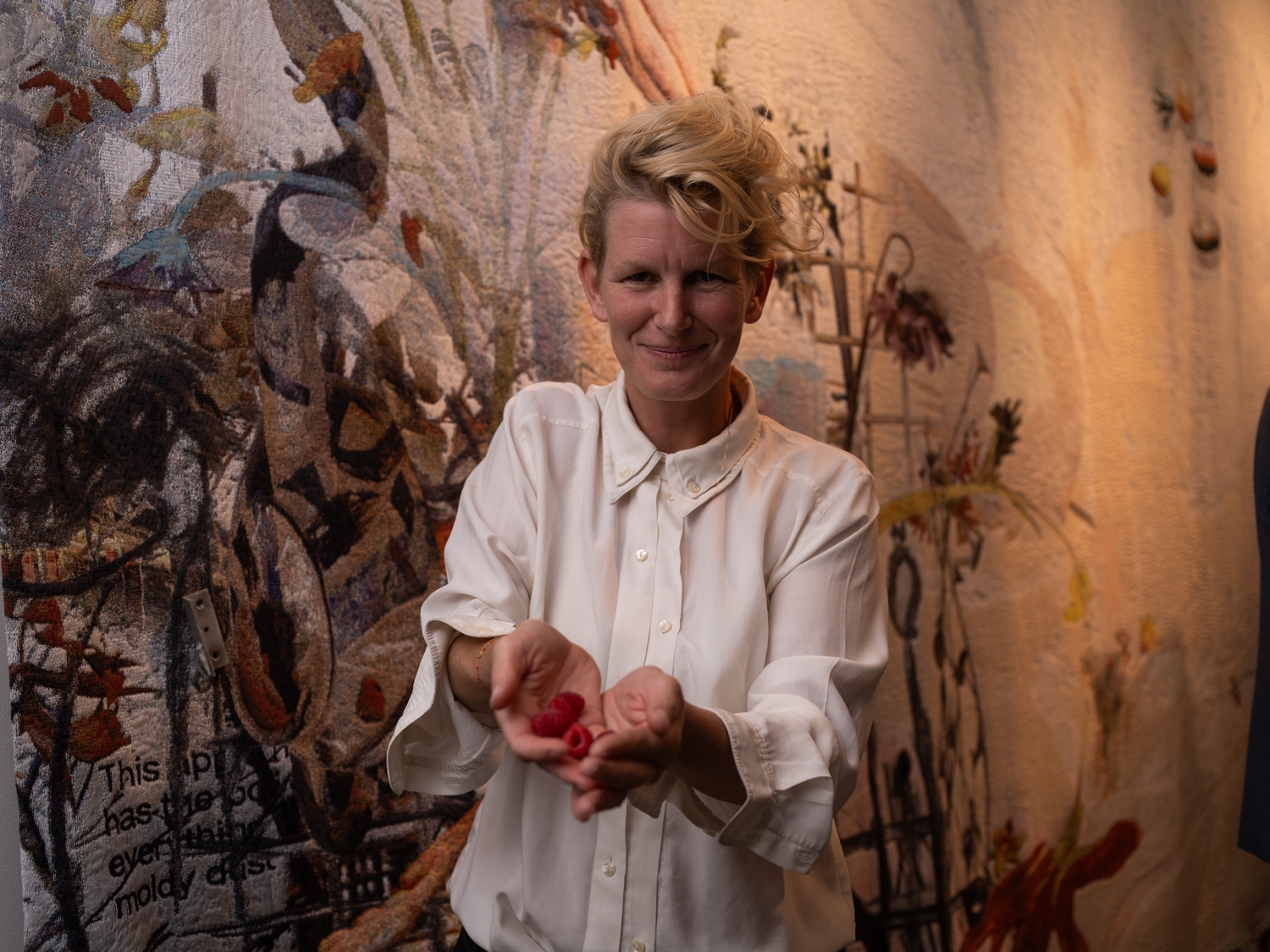 Laure Prouvost, Oui grow, Frieze London, installation view. Photo: Ben Broomfield
Laure Prouvost was born in Lille, France (1978) and is currently based in Brussels. She received her BFA from Central St Martins, London in 2002 and studied towards her MFA at Goldsmiths College, London. She also took part in the LUX Associate Programme. Prouvost won the MaxMara Art Prize for Women in 2011 and was the recipient of the Turner Prize in 2013. 
Recent solo exhibitions include: Above Front Tears Oui Float at the Nasjonalmuseet, Oslo, Norway (2022); Laure Prouvost: Theatergarden and A Be(a)stiary of the Anthropocene, Longlati Foundation, Shanghai, China (2022); Deep Travel Ink, Atelier Hermès, Seoul, South Korea (2022); The Long Waited, Weighted, Gathering, Manchester Jewish Museum, Manchester, UK; Our elastic arm hold in tight through the claouds at Kunsthal Charlottenborg, Copenhagen, Denmark (2021); Re-dit-en-un-in-learning CENTER at Lisson Gallery London (2020); Melting into one another ho hot chaud it heating dip, Kunsthalle Lissabon, Lisbon, Portugal (2020); Deep See Blue Surrounding You / Vois Ce Bleu Profond Te Fondre, Les Abattoirs, Toulouse, France, LAM – Lille métropole, Villeneuve d'Ascq, France (2020), and Bonnefanten Museum, Maastricht, Netherlands (2021); AM-BIG-YOU-US LEGSICON, M HKA – Museum of Contemporary Art Antwerp, Belgium (2019); Palais de Tokyo, Paris, France (2018); BASS Museum, Miami, FL, USA (2018); They Are Waiting for You, Performance for stage at the McGuire Theatre, Minneapolis, MN, USA (2018); SALT Galata, Istanbul, Turkey (2017); Kunstmuseum Luzern, Switzerland (2016); Pirelli HangarBicocca, Milan, Italy (2016); Museum Für Moderne Kunst Frankfurt Am Main, Frankfurt, Germany (2016); Red Brick Art Museum, Beijing, China (2016); Haus Der Kunst, Munich, Germany (2015); New Museum, New York, NY, USA (2014); Laboratorio Arte Alameda, Mexico City, Mexico (2014); Max Mara Art Prize for Women, Whitechapel Gallery, London, UK and Collezione Maramotti, Reggio Emilia, Italy (2013); Laure Prouvost / Adam Chodzko as part of Schwitters in Britain, Tate Britain, London, UK (2013); The Hepworth Wakefield, Wakefield, UK (2012); and Flat Time House, London, UK. Prouvost represented France at the 58th International Art Biennial Venice, May-November 2019 and was included in NIRIN, the 22nd Biennale of Sydney (2020). June 2019 saw the artist's first public commission in the UK through Transport for London's Art on the Underground.
Biography last updated: 2023