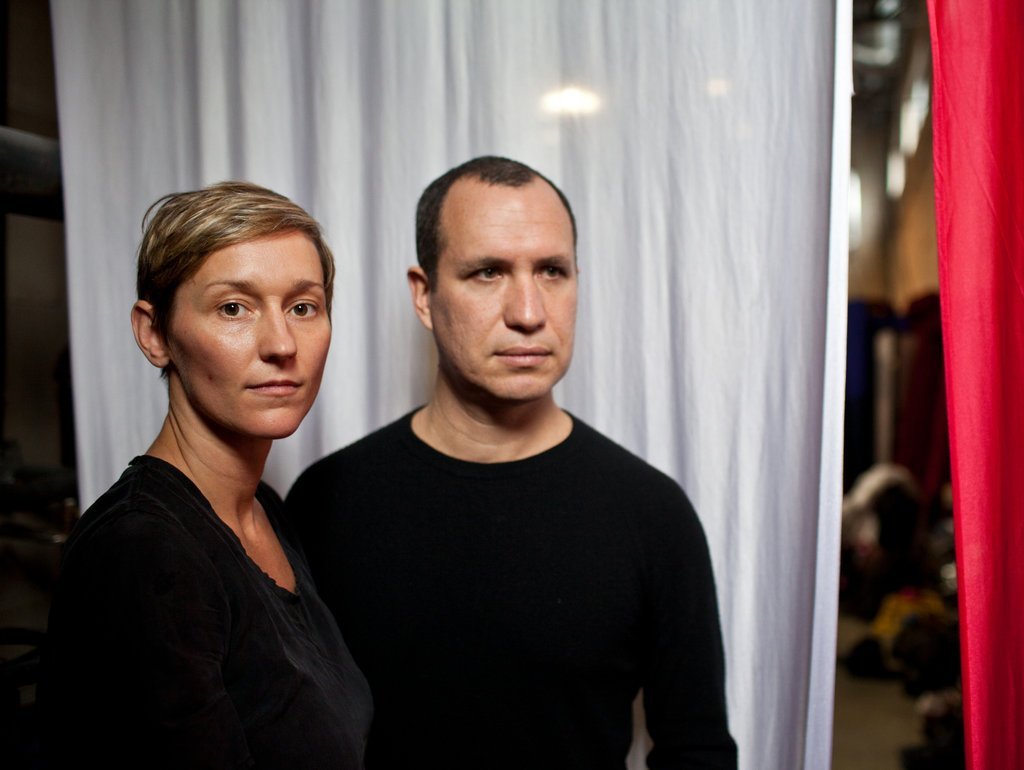 Jennifer Allora and Guillermo Calzadilla. Photo Todd Heisler/The New York Times
Through a complex research-oriented practice, Allora & Calzadilla critically address the intersections and complicities between the cultural, the historical and the geopolitical.  Collaborating since 1995, the interdisciplinary nature of their interventions is echoed by an expanded use of the artistic medium that includes performance, sculpture, sound, video and photography. Their dynamic engagement with the art historical results in an acute attention to both the conceptual and the material, the metaphoric as well as the literal.
Jennifer Allora (b. 1974) received a BA from the University of Richmond in Virginia (1996) and an MS from the Massachusetts Institute of Technology (2003). Guillermo Calzadilla (b. 1971, Cuba) received a BFA from Escuela de Artes Plásticas, San Juan, Puerto Rico (1996) and an MFA from Bard College (2001). Important exhibitions of their work have been held at the Art Gallery of Alberta, Edmonton, Canada (2016); Philadelphia Museum of Art and the Fabric Workshop and Museum, Philadelphia, PA, USA (2014); REDCAT, Los Angeles, CA, USA (2014); Fondazione Nicola Trussardi at Palazzo Cusani Milan, Italy (2013); Kaldor Public Art Projects, Sydney, Australia (2012); the Indianapolis Museum of Art, Indianapolis, IN, USA (2012); MoMA, New York, NY, USA (2010); Haus der Kunst München, Munich, Germany (2008); Stedelijk Museum Amsterdam, The Netherlands (2008); Serpentine Gallery, London, United Kingdom (2007); Whitechapel Art Gallery, London, UK (2007); and Palais de Tokyo, Paris, France (2006), as well as several other institutions worldwide.
Among numerous group exhibitions, Allora & Calzadilla have participated in Documenta 13 (2012) and several editions of the Venice (2005, 2015), Gwangju (2004, 2008, 2014), Lyon (2005, 2007) and São Paulo Biennials (1999, 2010). In September 2015 they opened Puerto Rican Light (Cueva Vientos), a site-specific project with the Dia Art Foundation in Guayanilla–Peñuelas, Puerto Rico, DIA's first long-term installation outside of the continental United States since Joseph Beuys's 1982 7000 Eichen (7000 Oaks) in Kassel, Germany. The artists are currently preparing a large survey exhibition featuring two decades of works related to Puerto Rico at MAXXI in Rome in February 2018, as well as a solo exhibition of selected works from 2007 to 2018 at the Tapies Foundation in Barcelona. The artist's first mid-career survey in Latin America will be featured at the Museo de Arte Moderno de Medellín, Colombia, and is scheduled to open in March 2018.