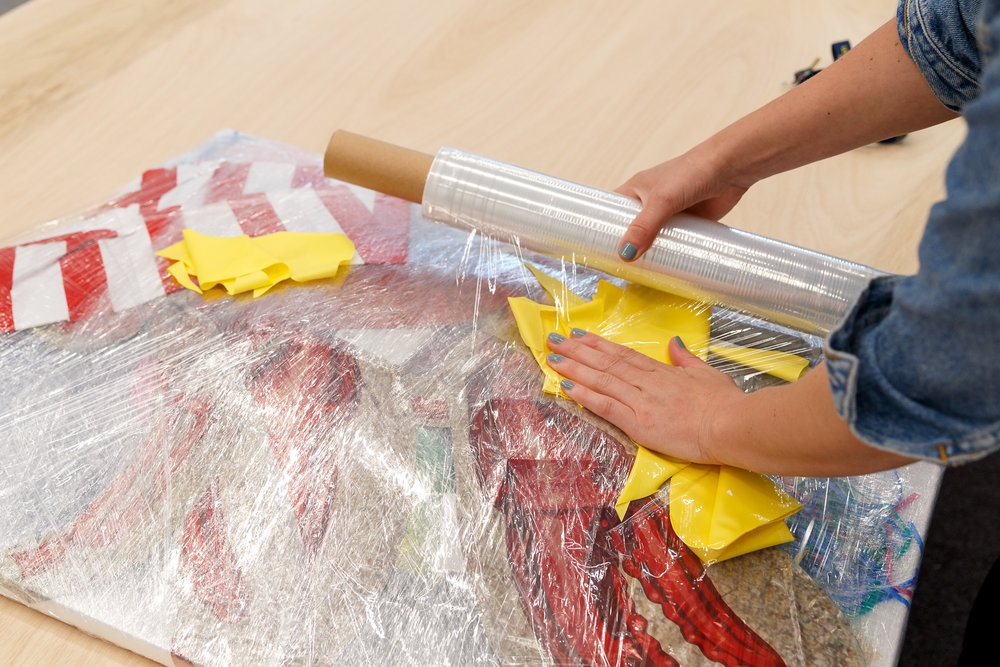 Crabstep, 2016. Audience collaboration taking place during the exhibition Wrapped. Photo: Jules Lister
Sarah Kate Wilsonis an artist living and working in London. She received her MFA from The Slade School of Fine Art, London (2010) and is a practice based PhD Candidate (2013-2017) at the University of Leeds (AHRC funded).
Wilson makes paintings that continue to evolve as they exit the studio. These works are keptaliveby presenting them as events, through the use of ephemeral materials, by directing others via instructions to interact with them and by working with performers. Making the invisiblevisibleor presenting the back-stage frontwards is an ongoing concern in Wilson's practice, in both the making of work and its exhibition.
Recent exhibitions include 'Iris' a solo exhibition at Baltic 39 for 'Figure Three', Newcastle, 2016; 'Projected Paintings' a solo exhibition at the Armory Center for the Arts in Pasadena, California, 2015 and a three-person exhibition at The Newlyn Gallery, Cornwall, 2014. In 2015 she was shortlisted for theJerwood Painting Fellowships 2016and in 2014 nominated for the2014 New City Prize, Visual Arts, Milton Keynes Gallery.
Alongside her studio practice sits an ambitious curatorial practice, her recent project 'Painting in Time: Part Two' was presented at the School of The Arts Institute Chicago in their Sullivan Galleries. This exhibition included a cross generational group of international artists such as Yoko Ono, Polly Apfelbaum, Lisa Milroy and Debo Eilers.
She also co-directs LeandaKateLouise, an artist collective who recently curated 'Show-Off', a performative exhibition that included artists Martin Creed, Phoebe Unwin, Bruce McLean and Mali Morris. In front of a seated audience art handlers parade artworks on and off a specially commissioned stage. Here artworks appear on stage for a limited amount of time whilst lit by theatrical lighting whilst receiving instantaneous audience feedback through applause, laughter or concentrated silence
Biography last updated: 2018